CEUX QUI EN PARLENT LE MIEUX !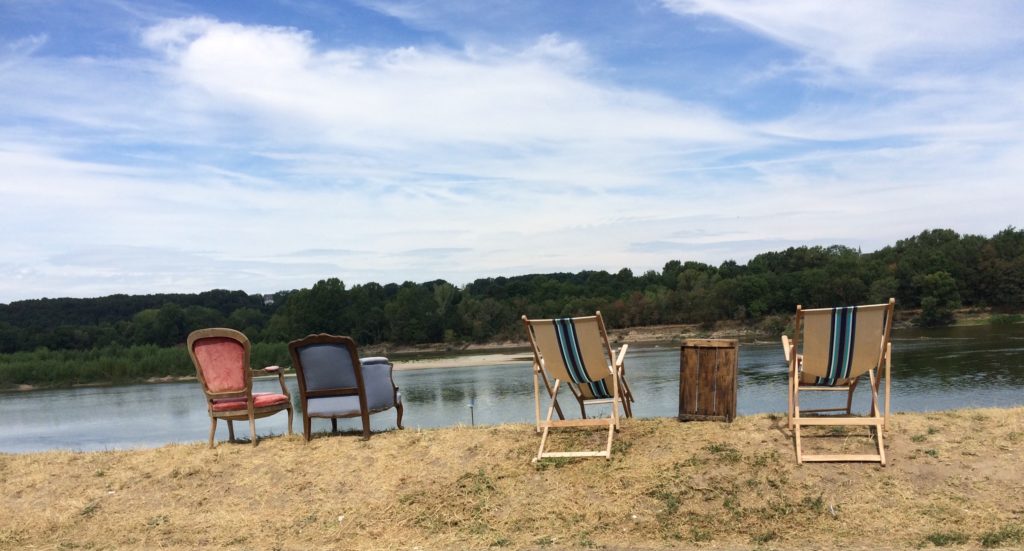 Nous accueillons à l'Ile Bellule des couples, des grandes et petites familles, des grands-parents avec enfants et petits enfants, des couples d'amis et tous sont repartis enchantés de leur séjour. Nous vous laissons découvrir leurs commentaires car ce sont eux qui en parlent le mieux !  Merci à nos voyageurs pour leurs messages chaleureux.
* * * * *
Appréciations récentes
CORINE V – date du séjour – 12 au 20 septembre 2020
Séjour au cœur des Châteaux
Idéal pour passer ses vacances ou même quelques jours. À proximité de Chinon, la maison du milieu du 19eme siècle a été parfaitement rénovée par ses accueillants propriétaires et adaptée aux usages actuels. Décorée avec goût, la propriété vous fait vous sentir très vite chez vous et vous offre de multiples activités pour les adultes comme pour les enfants. Sa situation au cœur du Chinonais permet la découverte des vins et du terroir local mais aussi de châteaux célèbres et d'autres pépites parfois moins connues de la renaissance.
* * * * *
 LAURENCE L – date du séjour – 15 au 22 Août 2020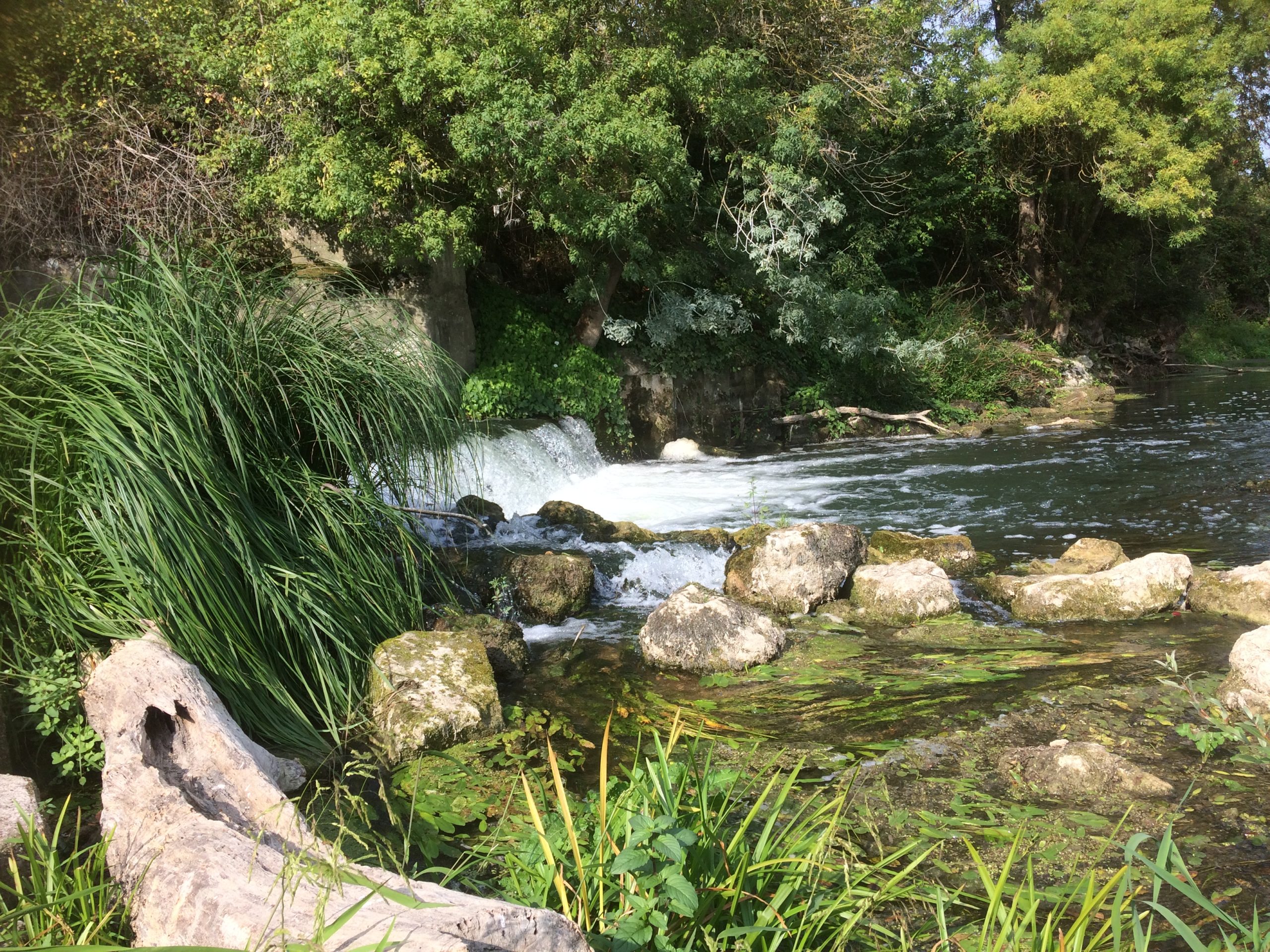 Excellent séjour !
Nous avons passé une merveilleuse semaine en famille. Accueil chaleureux de nos hôtes plein d'attentions. Gîte très bien équipé aussi bien pour les grands que les petits avec un GRAND jardin ! Proche de nombreux sites touristiques, nous avons beaucoup apprécié le château d'Ussé (château de la belle au bois dormant) ainsi que le château de Langeais avec son spectacle d'oiseaux qui a ravi nos enfants.
* * * * *
 XAVIER M – date du séjour – 08 au 15 Août 2020
Agréable maison
Agréable petite maison sur les bords de l'Indre, jeux pour les enfants, commerces et supermarché à quelques minutes. Propriétaires sympathiques à recommander.
* * * * *
 ASTRID S – date du séjour – 25 Juillet au 08 Août 2020
Perle am Indre
Das Objekt liegt – durch eine wenig befahrende Straße getrennt – direkt am Indre, verfügt aber über einen sehr idylischen Sitzplatz am Flussufer. Das Haus ist nicht groß, aber sehr gut ausgestattet einschl. Klimaanlagen in den Schlafzimmern im oberen Stockwerk. Es verfügt über einen riesigen Garten mit diversen Spielgeräten (Trampolin, Baumhaus, Tischtennis). Ideal für Familie mit 2-3 Kindern. Die Gastgeber sind extrem freundlich und waren auf eine « Corona-« Vermietung gut vorbereitet, z.B. gab es ein biologisch abbaubare Einmalbettwäsche, Handtücher waren selbst mitzubringen. Das Objekt liegt optimal für Fahrradtouren an Loire und Indre und stellt selbst eine Reihe guter Räder (incl. Kinderräder) zur Verfügung). Wir kommen sehr gerne wieder.
* * * * *
ANJA G  –  date du séjour- 18 au 25 Juillet 2020
Wohlfühl-Haus in toller Lage mit tollem Komfort
 Wir haben im Juli eine tolle Woche in dieser wirklich tollen Unterkunft verbringen dürfen und haben uns rundum pudelwohl gefühlt. Die Vermieter sind sehr nett und hilfsbereit, versorgten uns mit reichlich Informationen. Der Kontakt war unkompliziert und super, so haben wir es selten erlebt. Das Haus ist wirklich toll ausgestattet und in einem extrem sauberen Zustand. Es fehlte an Nichts, alles nur Erdenkliche war vorhanden. Die Betten waren super, wir haben alle 6 sehr gut geschlafen, die Bäder sind tiptop und auch die Küche war sauber und voll ausgestattet. Der riesen Garten mit toller Terrasse wurde von uns auch nur zu gern genutzt, ebenso wie der tolle Platz, nur wenige Schritte vom Haus entfernt, an der Indre. Man geht wirklich nur über eine, wenig befahrene, Strasse und ist gleich am Fluß. Hier haben wir abends, in der Abendsonne, gerne bei einem Glas Wein gesessen und den Fröschen beim Quaken zugehört. Wirklich toll. Wir haben die Region mit den Fahrrädern erkundet, was man von dort aus prima machen kann. Die Radwege/Strassen sind gut, teilweise auch wenig von Autos befahren. Alles in Allem war es perfekt. Herzlichen Dank nochmal an Myriam und Daniel , Sie haben da einen tollen Fleck Erde geschaffen
* * * * *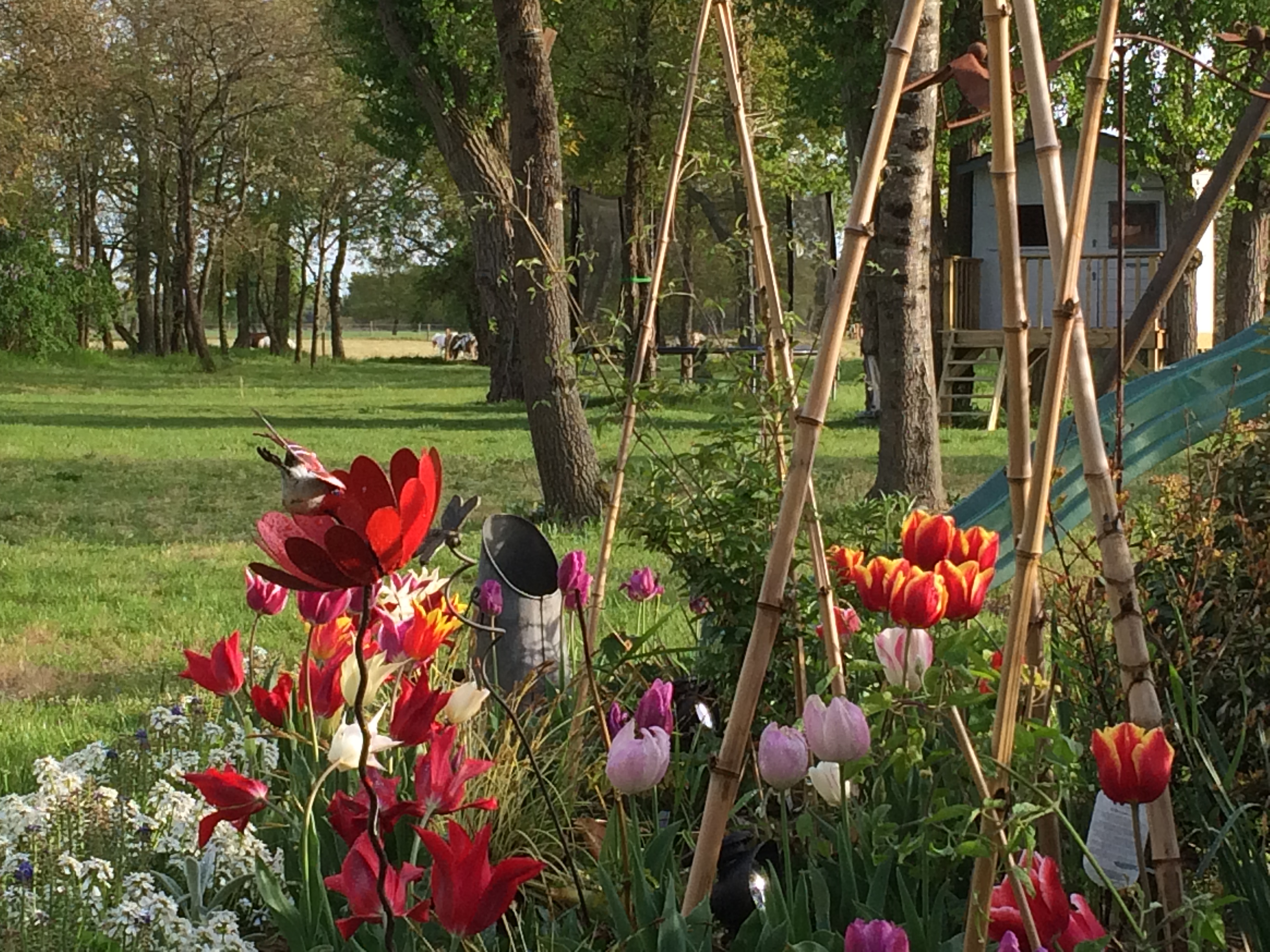 LAURE E – date du séjour – 04 au 18 juillet 2020
Belle maison et immense jardin
Nous avons passé 15 jours de vacances très agréables. Les enfants ont profité du trampoline, de la cabane, de la balançoire et du toboggan. Ils ont fait des stages de poney au poney club situé à 5 minutes du gîte. A moins de 30 minutes nous avons pu visiter les nombreux châteaux, abbaye et fait du canoë sur la Loire. Le gîte est joliment décoré, confortable et bien équipé.
Nicola V – Date du séjour 22 septembre 2019
Liebevoll gestaltetes Ferienhaus
Sehr freundliche Vermieter. Es wurde umfangreiches Infomaterial bereit gehalten. Gute Austattung. Alles wie in der Beschreibung aufgeführt.
* * * * *
Ann w – Date du séjour 24 Août 2019
Relaxing family holiday in the Loire
We really enjoyed our stay here. The house was very comfortable with characterful bedrooms and nice bathrooms. The garden was great with different seating areas enabling us to make the most of the evening sun. Lots to see in the local area and a great butchers and bakers in the closest town making shopping easy.
* * * * *
Kreon W – Date du séjour 10 Août 2019
Quiet retreat.
This house is light and airy very well equipped throughout. The garden is huge with plenty of games for families, the terrace on the river is magical; we enjoyed watching beavers, kingfishers, squirrels and woodpeckers as well as the salmon and trout in the river. We took our own bicycles, but there are 4 available to use. The property is extremely well served by cycle paths going off in every direction – we made good use of them all.
* * * * *
Anny v – Date du séjour 29 juin 2019
Mooi en met smaak ingericht huis met grote tuin voor een (fiets)vakantie aan de Loire.
We hebben dit huis samen met vrienden gehuurd voor een fietsvakantie aan de Loire. Het huis is goed ingericht en geeft veel privacy doordat een slaapkamer en badkamer beneden is en 2 slaapkamers met badkamer en wc op de eerste verdieping. Mooi terras met tafel en stoelen en heerlijke ligstoelen. De ruime tuin kent veel gezellige hoekjes met zitjes. Voor de kinderen is er leuk boomhuishe en trampoline. Er is ook een mooie ruimte met tafeltennistafel, waarin de fietsen gezet kunnen worden. Voldoende parkeerplaats voor meerdere auto's. Het domein wordt afgesloten door een grote poort met code. Je kunt hier echt tot rust komen en lekker sportief bezig zijn. Ik vond dit huis echt een aanrader.
* * * * *
 Robert C –

Date du séjour 15 juin 2019
We visited in June for two weeks. This was our second visit to Bellule Island. This is probably the best equipped cottage in which we have stayed for holidays in France. Myriam has ensured that the house is beautiful and very comfortable with excellent facilities. Daniel continues to develop the garden which includes many areas to sit in the sun or in the shade, many spaces to play games and the beautiful picnic area at the edge of a river. The house is well placed to visit the beauties of the Loire, Vienne and Indre, as well as many interesting historical sites. Many vineyards nearby too! Shopping is easy with HyperU and Leclerc, both a short drive away. A small Carrefour is also in nearby Avoine. We had friends at home during the first week of our vacation and loved the house, the garden and the surrounding area. Myriam and Daniel are a very friendly and welcoming couple and are very helpful. We intend to return soon for other holidays, because we love the Loire Valley and we can not imagine staying anywhere else but Bellule Island. We highly recommend this house to anyone wishing to visit the area. But don't tell too many people as we want to be sure we can stay when we want !!
* * * * *
Martine M – Date du séjour 01 Juin 2019
We have loved our stay in L'Ile Bellule. Myriam and Daniel were very welcoming and the house is very complete. It was very good with small children and it felt like a home to us. Our children (1 and 3 years old) loved the big garden, the little cabana, the trampoline and there own bedrooms. We were able to rest in the garden, while they played. The kitchen is very equipped, more than i have ever seen. The location is ideal, with beautiful villages in the area, a beautiful Zoo which we visited and the swimming pool in Avoine. We can recommend a stay in L'Ile Bellule! (Traduit par Google) Nous avons adoré notre séjour à L'Ile Bellule. Myriam et Daniel étaient très accueillants et la maison est très complète. C'était très bien avec les petits enfants et nous nous sommes sentis comme à la maison. Nos enfants (âgés de 1 et 3 ans) ont adoré le grand jardin, la petite cabane, le trampoline et leurs propres chambres. Nous avons pu nous reposer dans le jardin pendant qu'ils jouaient. La cuisine est très équipée, plus que je n'ai jamais vue. L'emplacement est idéal, avec de beaux villages dans la région, un magnifique zoo que nous avons visité et la piscine d'Avoine. Nous pouvons vous recommander un séjour à L'Ile Bellule!
* * * * *
Michel R – Date du séjour -25  mai 2019
Bon séjour
Très bien accueilli. Maison agréable et propre. Bonne balade en
vélo.
* * * * *
Günter W – Date du séjour – 27 Avril 2019
Merveilleuses vacances
Propriétaires très gentils et courtois. Communication très utile. Maison décorée avec beaucoup de goût. Bel espace extérieur, particulièrement pour les enfants. Beaucoup d'informations Dur la région dans la maison et bons conseils de la propriétaire. Très propre et bien entretenu à l'intérieur et à l'extérieur. La région est très jolie et Il y a beaucoup de possibilités d'excursions. Nous étions extrêmement satisfaits de tout. Nous recommandons la maison et la région beaucoup aux amis et famille.
* * * * *
Ferdinand H –

Date du séjour -13 avril 2019
Nous sommes une famille avec 3 enfants (10-8-4). La maison est idéalement placée pour visiter les châteaux de la Loire et parfaitement équipée, entretenue. Le jardin est très grand, il a enchanté nos enfants avec tous ces équipements et jeux. Myriam et Daniel nous ont très gentiment accueillis. Nous avons été ravis de notre location et la conseillons vivement à notre entourage. En résumé : TOP.
* * * * *
Olivier L – Date du séjour – 06 avril 2019
Gîtes très propre
Très grands jardin. Idéal pour les familles
* * * * *
Appréciations 2018
Robert C. – Date de séjour – 12 sept. 2018
Charming gite in a good location
"The gite is clean well resourced and comfortable. Shortly after arrival, Myriam and Daniel visited to make sure we were settling in and explained how to work all of the appliances. They talked about the local area and made suggestions for places to visit including restaurants and local attractions. They are very friendly, generous and helpful hosts and have thought of everything to help make your stay as informed and enjoyable as possible. The garden is large, has sun all of the day, and has private and shady areas for you to escape from it all. The secluded land beside the river (L'Indre) is beautiful especially as the sun sets and is a haven for nature lovers because of the bird and animal life that abounds. The gite suited our needs perfectly, and it was one of the most relaxing holidays we have had. As Daniel said, "profitez" – Enjoy!"
* * * * *
Ruth D. – Date de séjour – 25 août 2018
This was a fabulous gîte, we would definitely return here!
"We had a great week here, very well-equipped throughout, exceptional quality and very spacious, loads of space outside. Lots to do for kids too, with the bikes, trampoline, swings, slide, table tennis, darts, hammock etc. Myriam & Daniel met us and showed us round and answered any questions we had, they were very welcoming and were on hand if we needed them throughout the week. It was lovely to have our own private area of riverbank for picnics/aperitifs too, to watch the herons and the setting sun. Also a great location for seeing the chateaux, bike riding and canoeing, we also enjoyed boat trips down the Loire."
* * * * *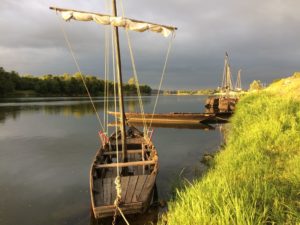 Jo J. – Date de séjour – 4 août 2018
This is a fabulous house completely perfect ! Location is awesome. Attention to detail fantastic
"First the house : beautiful. A fabulous garden with space for children to practice riding their bikes , play football , trampoline and run then the awesome table tennis room and darts. Lots of different areas to sit and lounge and read. Discreet washing line ! Brilliant outdoor oven / plancha aswell As a BBQmade outdoor cooking easy. We had every meal sitting on the lovely patio. Inside the beds were comfy there was the option of fans to cool everything down when the temperature outside soared. Great indoor kitchen facilities. Beautiful shower room. And we only discovered the treasure trove of games on the last night. Then step outside to enjoy the beautiful river. It was a treat to be able to sit and watch the river flow by or paddle upstream and play ball and kayak Then the fabulous Loir a velo. On the doorstep ! It meant we could easily all cycle to Chinon ( with a significant hill climb ) ,Usse ( sleeping beauty's castle ) and Villandry. Avoine is a beautiful town with a swimming pool ( and slide ) fab boulangerie etc and it's own supermarket. We hope to return next year as there's more to explore and repeat. Thank you to Myriam and Daniel who couldn't be more helpful."
* * * * *
Christine W. – Date de séjour – 30 juin 2018
Fantastic gite.
"We have stayed in many gites over the years and this is definitely one of the best. We arrived after a long hot journey and were warmly greeted by Miriam and Daniel who had provided cold water and a fan. They showed us their lovely gite which has been beautifully renovated. They also had many ideas and information about the area. The gite is very well eqipped, including two soft real settees (NOT bed settees!!), a large freezer compartment, more kitchen equipment than I've ever found, a really comfortable bed, and a large shower room. Outside there is lots of seating, a huge garden, and best of all, a seating area by the river; a wonderful place to relax. Avoine is an easy drive for a supermarket and other shops. There's also a swimming pool there but we didn't go. It was VERY hot during our visit but the many trees, the window shutters, and the thoughtfully provided room fan helped to keep it cooler. As only two of us stayed we only used the ground floor but there was another shower room and two further bedrooms upstairs. Miriam provided all the information needed for an excellent stay and she and Daniel were always very helpful and lovely hosts. For the first time in a gite we couldn't find anything we didn't like! We would definitely like to stay again."
* * * * *

David H. – Date de séjour – 18 mai 2018
Beautiful cottage located in the perfect position to visit the Loire Valley and all it has to offer.
"Charming cottage with South facing garden. The terrace catches the sun for breakfast, lunch and dinner. The location is perfect for exploring the Loire Valley, its Chateaux and towns. The cottage is clean and very comfortable and has everything you need for your holiday. Myriam and Daniel are excellent hosts and nothing is too much trouble for them. We would highly recommend staying at this cottage and intend to do so again ourselves in the near future. When exploring make sure you visit Chateau Le Rivau and Chateau Langlaise both surprisingly excellent even though they were not one of the well known ones. Obviously Chateaux Azay Le Rideaux, Chennonceaux, Chambord and Villandry are also must sees – your only problem will be fitting it all in. Myriam and Daniel many thanks for letting spend time in your charming cottage."
* * * * *
Cathy S. – Date de séjour – 30 mars 2018
Un très beau séjour à L'Ile Bellule !
"Merci beaucoup à Myriam et Daniel – nous avons passé un séjour très agréable dans votre gîte charmant et paisible. En arrivant nous avons reçu un accueil très sympathique – il est clair que les propriétaires ont fait tout possible pour que leurs visiteurs se sentent à l'aise. Nous avons trouvé la maison impeccablement propre et très bien équipée; très confortable pour notre famille de cinq. Dans les environs il y a tant de choses à faire et à voir, même début avril on a pu remplir nos quatre jours pleins de visites de châteaux et de musées. Merci pour cette belle expérience! Thank you Myriam and Daniel for your warm and friendly welcome at your lovely gîte. It is a beautiful and peaceful spot to spend a few days, with so much to do in the surrounding area. Even in slightly damp April we had a wonderful stay exploring some of the chateaux and museums in the area. The immaculate gîte was warm and cosy, with a lovely outlook to the garden, with everything you could need thoughtfully provided. A lovely stay."
* * * * *
Appréciations 2017
Romain D. – Date de séjour – 21 oct. 2017
Excellent séjour
"Superbe séjour dans ce gîte sur les rives de l'Indre. Bien placé afin de visiter la région et ses châteaux nous avons pu également profiter des ballades le long des rives de la Loire qui démarre à quelques centaines de mètres du gîte. Le gîte est très bien équipé il ne manque rien les chambre sont spacieuses et le literie de qualité. Très bien entretenue aussi bien intérieurement qu' extérieurement. Vélos, table de Ping Ping, aire de jeux, … tout est à disposition . Même pour l'escalier d'apparence un peu raide est sécurisé à l'étage par une barrière pour les enfants. Nous avons passé un excellent séjour et je recommande l'adresse aux personnes qui souhaitent venir visiter la région."
* * * * *
Tom S. – Date de séjour – 26 août 2017
Lovely gites, big garden, comfortable beds!
"We had a super week at the end of August with our two small children. We loved the area – Rigny D'Ussy castle, Tours, Saumur; enjoyed the 35 degree sunshine and loved the cottage – spacious, clean, modern with everything you could want in thr kitchen. The children loved the garden spending hours on the trampoline and the swing. We would highly recommend a visit."
* * * * *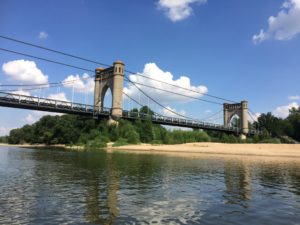 Katia C. – Date de séjour – 12 août 2017
Fantastique!
"Nous avons passé une fantastique semaine dans la maison aux libellules. Tout est pensé pour le confort et le bien-être des grands et des petits. Les pièces sont spacieuses et bien agencées. Les trois générations de la famille ont apprécié les espaces de vie à l'intérieur et de détente à l'extérieur. Le lieu est impeccable et bien situé pour les visites variées. Un grand merci à M. et Mme Halloin pour leur accueil chaleureux."
* * * * *
Karsten W. – Date de séjour – 30 juil. 2017
Beautiful place to spend holidays
"We enjoyed our stay very much. The place is a very good hub for exploring the Loire valley west of Tours. Chinon and Usse castles are 'round the corner, Azay-le-Rideau, Langeais, and famous caves are not far away. The house is situated at the Indre river and has a large garden where you can play table tennis, badminton, etc. The interior is very clean and has all the tools you need. We even found the appropriate tools when we tried Snails in Garlic sauce  The host were very friendly and truely cared. All our kids and ourselves chose this the best site on our France trip this year."
* * * * *
Kevin S. – Date de séjour – 17 juin 2017
Beautifully presented house in a lovely location
"Miriam and her family have done everything possible to make this a lovely house and have thought of everything. The house was spotlessly clean upon arrival and they contacted us during our stay to make sure everything was O.K. The location is superb for visiting all the sights of the Loire and the house is set in a peaceful garden. We loved it and I would strongly recommend it as a beautiful pace to stay."
* * * * *
Maryse R. – Date de séjour – 8 avr. 2017 
Gîte exceptionnel
"Gîte exceptionnel aussi bien par son état impeccable que par son équipement et sa décoration. Propriétaires très accueillants et à l'écoute. Très bonne situation géographique au milieu de mille et une choses à découvrir. Jardin agréable avec jeux pour enfants. Aucun mauvais point à signaler !"
* * * * *
GILLE A. – Date de séjour – 15 avr. 2017
Maison agréable et bien située
"Le gite est joliment décoré et bien équipé. Rien ne manque ! Il est suffisamment spacieux pour recevoir confortablement 6 personnes. Les photographies sont conformes à la réalité. Tout est également prévu pour profiter du grand jardin : terrasse, barbecue, plancha, trampoline Beaucoup de lieux à découvrir dans les environs. Nous remercions les propriétaires pour leur accueil et leur disponibilité."
* * * * *
Stephanie G. – Date de séjour – 4 nov. 2016
This is an absolutely lovely, charming house, spacious and full of character and all comfort
"A real gem! Myriam has thought of everything in preparing this house for guests – we received a fantastic welcome and explanation and were thrilled with this lovely house with everything beautifully presented inside and out – spacious grounds and lovely setting across the road from the river – very well located near many villages and castles, as well as being right on the Loire à vélo track with great runs/walks/cycling by the Indre/Loire rivers. We could not have asked for a better spot – our family of 5 had plenty of space and really enjoyed our time there. The cottage is full of charm! Our hosts had also provided detailed recommendations in booklets about the area and where to go what to see. A perfect stay – thanks so much."
* * * * *
Jean-Denis H. – Date de séjour – 24 oct. 2016
Gîte de charme, très agréable à vivre
"Le gîte est très lumineux et très propre, d'une taille très suffisante pour une famille avec deux enfants comme la nôtre. Nous avons particulièrement apprécié les aménagements qui allient avec beaucoup de goût la modernité et le cachet de cette ancienne maison fraîchement rénovée. La pierre de tuffeau caractéristique de la région est très bien mise en valeur. Le terrain est très grand, avec une partie boisée et un trampoline. En traversant la route, on a accès aux bords de l'Indre qui prolongent la propriété. Quand le temps s'y prête, ce doit être très agréable de s'y reposer et d'y prendre un goûter. La maison est très bien située pour visiter cette partie du val de Loire (Ussé et Chinon tout proches, Langeais et Saumur à trente minutes). Accueil très chaleureux, la propriétaire est soucieuse du bien-être de ses locataires. Nous conseillons donc vivement cette location.
* * * * *